Effective tips to stay awake
      One thing in common between deadline and exam is that it keeps you away from the word 'sleeping.' However, it's also hard to stand feeling sleepy and yawning. If you are struggling to stay awake, here are some effective ways to help you except coffee and Redbull.
          When you are really tired and sleepy, a power nap might be the first step to do. It's to take a quick nap which can help your brain boost and be able to keep going. The suitable duration is about 5-20 minutes. Taking longer than 20 minutes can cause immobility. You might feel more tired. After waking up, another good helper is chewing gum. By chewing a piece of gum, it will stimulate your facial muscles slightly. This will cause an increase in blood flow to your head. To keep you feeling alert, your body also needs to keep active. Let's try to get a little bit of physical workout like standing up-down, stretching your legs or shaking your hand for 20 seconds. It can help your brain's ability to learn and get more information. While you are getting some physical activities, don't forget to breathe deeply. It can help your brain relax.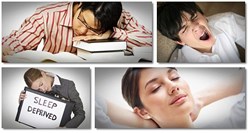 When you have to stay up all night reading book or even writing some essays, taking a power nap, chewing gum and getting active are the effective tips to help you awake. If you have found yourself very sleepy, don't give up on any exam or work. Just face it