Saturday night, I went to a theater and watched "The Martian", a science fiction movie that will definitely influence your interest in science and NASA.
The story was about Mark, an astronaut who was left alone on Mars because his friends thought he died in a sand storm. Therefore, he needed to survive on Mars as long as he could by using all his knowledge. He survived for more than a year because he had a lot of knowledge and used it wisely. Especially, the knowledge about science was very useful for survival. He had to calculate a lot to do many scientific tasks that helped him survived and his calculation cannot be wrong, even a little bit of a single mistake can ruin everything and kill him.
Moreover, Mark was very optimistic. Although he knew that his life was in danger and he might die, he was not discouraged. He encouraged himself to be alive and spent every minute on thinking about how to be alive until NASA would rescue him instead of do nothing and be depressed.
The story and plot is great so, I don't want to spoil the film anymore. I would like to talk about its graphic and some details. While I was watching this movie, I felt like the movie was made in real Mars and real space. The movie's graphics was wonderful. I wonder how the filming location looked like. One thing that I saw obviously is that the movie showed the atmosphere of NASA's workplace which was nice. Co-workers were friendly, they loved and bonded with each other. Everyone is full of joy. I think the real NASA's workplace may be more serious than what the movie portrayed but this movie had convinced me that working at NASA is an excellent idea and it might have persuaded many kids and teenagers to be an astronaut.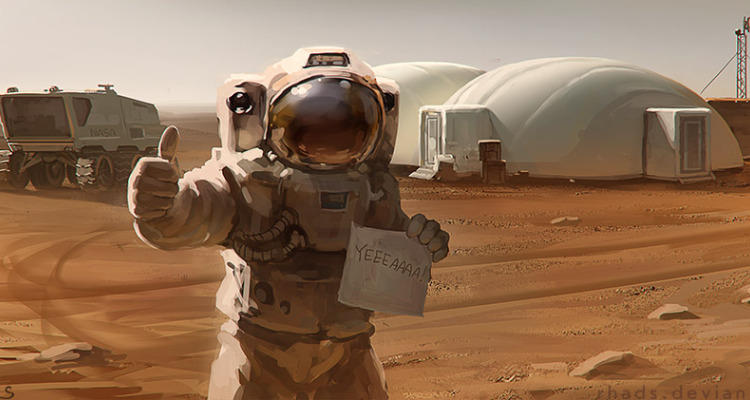 This movie showed how science is good for you. I am studying language for education. Nevertheless, when I watched this movie, I wanted to study science because I thought that it could help me survive! This movie is suitable for students who are studying science and are bored of it. Anyone who watch this movie will see that science has many benefits for surviving and it is very cool. Therefore, science students should encourage themselves by watching this fantastic science fiction movie.
The movie encourages people to stay positive and increases passion for science and good attitudes toward NASA. Science students who watch this movie will love science more. I would absolutely recommend this movie to people. I am sure that everyone who watches this movie will love it like I do.