Have you ever imagined how your life will be in your 70s? You may have a picture of an ordinary senior citizen staying at home and raising kids. However, you will change your mind after reading this.
Yesterday, I along with my friend had a chance to watch a movie at SF World Cinema, Central World. This movie was extremely inspiring. Therefore, I would like to share my impressive moment while watching the movie, "The Intern," through the following review.
(Stop reading this if you do not want to see the movie spoiler.)
"The Intern," a comedy movie directed and writtenby Nancy Meyers, tells the story about Ben Whittaker, a 70-year-old widowed senior citizen who did not want to end up his life with retirement. He found a job advertisement asking senior citizens to apply for an internship at an online clothes retailing company named "About the Fit." Eagerly and unreluctantly, he recorded an impressive video resume of himself explaining the reason why he wanted this job. Then, he sent it to the company, and of course he got hired.
Ben was assigned to work with Jules Ostin, the founder and CEO of the company, who always get overwhelmed by the company's workload and is hard to deal with. Ben tried his best to be productive at the company. Ben learned how to cope with the technology despite his old age, helped whomever he could help at work, and even gave several good pieces of advice to the young colleagues at the company. He even worked as a chauffeur who picked her up every morning and drove her home after work, so he got along with Matt, her husband, and her lovely daughter, Paige, as well. Gradually, Jules became more open to him, and he became both her personal assistant and the closest friend.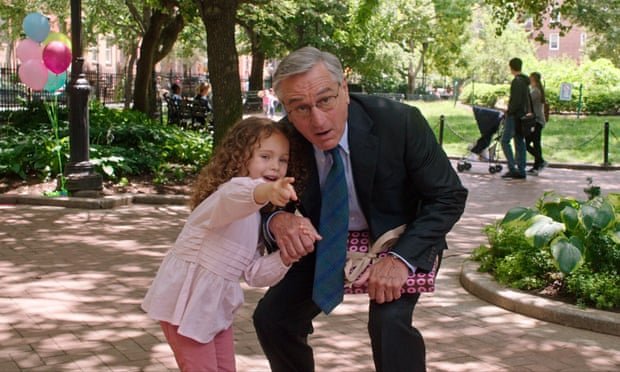 Personally, the most shocking but most impressive scene of this movie is when Ben unexpectedly discovered that Matt had an affair with another woman. He kept it confidential to Jules, but he wisely decided to talk indirectly to Matt reminding what he had done wrongly. Surprisingly, Jules revealed to Ben that she had already known this crisis before him, but did not know how to handle this. Therefore, Ben cheered her up until she felt better.
At the end of the story, Matt dropped in Jules' office,
confessed what he had done, and told her how much he felt sorry about the mistake. He also asked her if he deserved another chance to begin again or not, and fortunately she forgave him. If there is someone who has solved all the problems in this story, that person must be Ben.
I can guarantee that it was the worthiest 100 baht ever I had spent on the movie. I was impressed by such a beautiful story plot. Not only will watching this film help you learn many more meaningful lessons about life, but Ben Whittaker is ready to make you smile through the movie, "The Intern."